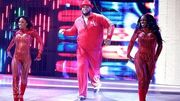 Brodus Clay is a minor character from WWE 2K14. He was Bully's first remotely prolific match after facing three jobbers in a row. Brodus Clay managed to accomplish what Big Show later failed to do, by defeating Bully Demise in the ring. Brodus Clay has had little to no lines or characterization outside of his entrance, largely due to his quick death at the hands of Killerman after his victory. It was his death that made Jorg realize that anybody who Bully wrestles would get killed by Killerman, as with his death and Santino Morella's there was a clear pattern. Bully ended up taking Clay's spot in the King of the Ring tournament due to his death.
On June 12th, 2014, only 4 weeks after his death on May 17th, Brodus Clay was released by the WWE.
Ad blocker interference detected!
Wikia is a free-to-use site that makes money from advertising. We have a modified experience for viewers using ad blockers

Wikia is not accessible if you've made further modifications. Remove the custom ad blocker rule(s) and the page will load as expected.