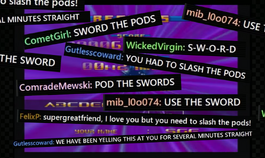 The Chat is the collection of people who chat and comment live during The Stram. If any mistakes are made during a game, Supergreatfriend will be quick to point out how it is their fault. The Chat needs to be more careful in the future.
The Chat and the Youtube watchers have a volatile relationship, and bizarrely high amounts of sexual tension. Youtube seems to be jealous of The Chat's close relationship with SGF, and The Chat is terrified of the ever-watchful eye of Youtube. Everyone else agrees that The Chat and Youtube just need to get it over with and classmate already.
Mods (Incomplete List):
Ad blocker interference detected!
Wikia is a free-to-use site that makes money from advertising. We have a modified experience for viewers using ad blockers

Wikia is not accessible if you've made further modifications. Remove the custom ad blocker rule(s) and the page will load as expected.