Vince Mcmahon is the owner of the WWE, and is featured prominently during WWE 2K14. He is happy to sign on Bully Demise, and has many pasta dinners with him over. . .Just about anything. He eventually hires Jorg to try to figure out who killed Santino Morella and Brodus Clay. When he figures out about the murders and who did it, he does his best to attempt to hide the fact, by saying that Jorg is trying to uncover "the man who stole John Cena's Birthday cake".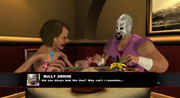 Vince is partially replaced by Coach Emerson during Bully's dream in episode 8 of WWE 2K14, but still shows up to have his usual pasta dinner with Bully...In a nightmare inducing form.
Ad blocker interference detected!
Wikia is a free-to-use site that makes money from advertising. We have a modified experience for viewers using ad blockers

Wikia is not accessible if you've made further modifications. Remove the custom ad blocker rule(s) and the page will load as expected.